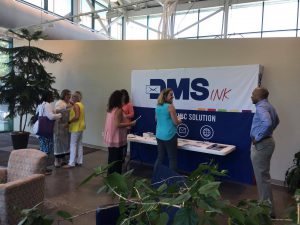 Members of the Ohio River Valley Women's Business Council met at the headquarters of DMS ink on Wednesday, July 26 for the WBE Forum Luncheon. Hosted by Beth Radford, announcements were presented by Sheila Mixon.
DMS ink staff, Mark Kuns, VP of Sales, Troy Singer, Director of Strategic Accounts, and Gery Deer, Communications Director presented a brief keynote discussion on, "How to Make Your Customer Communications and Advertising Relevant and Impactful." The session covered insight and information on how data can be used to better target marketing by creating relevant, personalized communication.
The event concluded with a tour of the DMS ink facility. Here are some photos of highlights from the event.
---
Sunday July 9th was the DMS ink Sponsor Game of the Dayton Dragons at 5/3rd Field in downtown Dayton. DMS ink president and CEO, Christine Soward threw the ceremonial first pitch of the game! The "PlayBall" program included several DMS ink ads including our 3-panel, baseball-themed Critical Communication spread featured below! Were you at the game?Read More
---
On Tuesday, June 6, 2017, DMS ink hosted an exclusive informational event sponsored by Canon Solutions America at the company's headquarters in Yellow Springs, Ohio. Guests of both companies were invited to have some one-on-one time with some of Canon's inkjet specialists and gain a more complete understanding of the benefits and capabilities of the flagship equipment at DMS ink. Read More
---
DMS ink now has available, free on YouTube, a set of four brief videos focused on conversations similar to those we have with our customers. Topics range from information about how we see turnkey solutions in the marketplace to understanding the concept of "critical documents" in communication.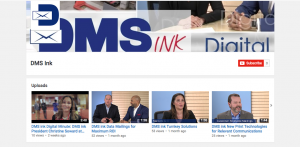 Each video, produced by DMS ink's in-house advertising firm, The Bricks Agency, is around 2 minutes and features a member of our sales staff relating information based on real world questions we get in the field.
If there is a related topic you are interested in learning more about, please drop us a line and we might answer your question in a subsequent video or blog post.
CLICK TO VISIT THE DMS ink DIGITAL MINUTE YOUTUBE CHANNEL
---
May 18, 2017 – DMS ink and its subsidiary companies played host to the Yellow Springs Chamber of Commerce After Hours event on Thursday May 18, 2017. The event included open business networking and a detailed tour of the offices and production areas of the facility. Read More
---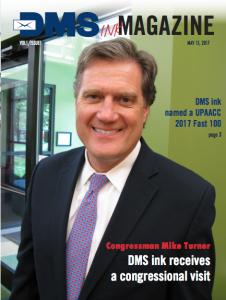 United States Representative Mike Turner (R-OH 10th District) visited the corporate headquarters of DMS ink at 888 Dayton St. in Yellow Springs on Monday, May 15th. The visit included a tour of the offices and production facility followed by a brief discussion with company owner and president, Christine Soward. Read More
---
DAYTON, OH – May 10, 2017 – DMS ink has been named by the US Pan Asian American Chamber of Commerce Education Foundation (USPAACC) as one of the country's Fast 100 Asian American Businesses in recognition of its substantial growth over the last year. This is the second consecutive year that DMS ink has been recognized with this award. (Click here to see video from the 2016 conference).Read More
---
The Greene County Board of Commissioners and Greene County Community Improvement Corporation recognized DMS ink's achievements at the Greene County Annual Report to the Community on Friday April 21, 2017. The county organizations company's accomplishments in being named "Women Owned Business of the Year" by Dayton Business Journal, and as one of the "100 Fastest Growing Asian-American Businesses." Read More
---
Congratulations to DMS ink President and CEO, Christine Soward for being nominated for a 2017 American Advertising Federation Mercury Award Recognizing Advertising Professionals in Sales, Support & Education in the category of Best Fulfillment/Mail House Representative. Read More
---
Yellow Springs, OH – March 30, 2017 – A meeting of the Ohio Minority Supplier Development Council (OMSDC) was hosted by DMS ink on March 30th at the company's headquarters in Yellow Springs, Ohio. The emphasis of the event was to give local members the opportunity to meet the new president and CEO of the OMSDC, Jacqueline D. Neal.
---